What Happens To The Body After Drinking Elderberry Tea Is Very Alarming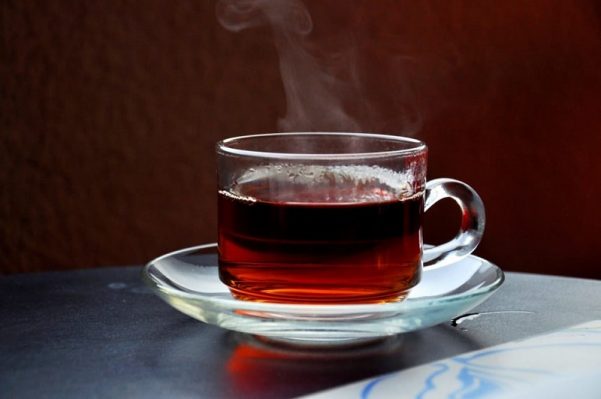 1. Boosts Immunity
High levels of antioxidants in elderberry tea makes it good to boost the immune system. Thus, this tea can stimulate the production of white blood cells and lower oxidative stress, which allows the immune system to focus on other potential issues.
2. Detoxify the Body
Elderberry tea has been scientifically linked to having diuretic and laxative effects, meaning it can maximize nutrient uptake efficiency, improve symptoms of constipation and rid the occurrence of hemorrhoids. As a diuretic, this tea detoxifies the body by riding excess salts, fats and toxins.
3. Pain and Inflammation
Studies have found that elderberry tea has certain analgesic properties, as well as anti-inflammatory compounds that treat and help people recover from surgery, illness, inflammation or injury.
4. Weight Loss/Metabolic Function
Elderberry tea has many antioxidants, which can boost the metabolism in the body. By boosting metabolic function, it helps the body burn fat, which aids weight loss.
Don't miss out on the health benefits of our 100% Organic Alkaline Elderberry Tea. To purchase click photo below: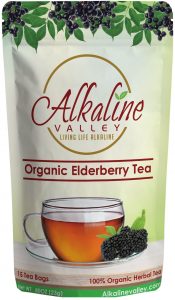 5. Cancer Prevention
A number of research studies have claimed that due to the presence of various flavonoids, triterpenoids and cinnamic in elderberry tea, it help to prevent cancer. The results show that the antioxidants in elderberry tea are anti-mutagenic and can help defend against oxidative stress, cell mutation and apoptosis in healthy cells.
6. Controls Diabetes
According to sources, some of the antioxidant compounds in elderberry tea work directly on the pancreas to regulate insulin and glucose levels, helping non-diabetics to avoid developing diabetes and providing stability for people who suffer from the condition.
7. Improves Respiratory Health
Elderberry tea has been traditional used to regulate bronchitis, coughs, respiratory infections and congestion. According to sources, elderberry tea has decongestant and expectorant qualities that help ease inflammation in the respiratory tracts, eliminating mucus, phlegm and other toxins.
8. Vision Health
Drinking elderberry tea can be a great ideal booster for vision health, according to reports. Due to its significant levels of antioxidants, this tea can help prevent macular degeneration and the development of cataracts.
9. Digestion
Elderberry tea could be great to drink before or after meals because it naturally soothes the stomach with its anti-inflammatory compounds, which treat indigestion, excess flatulence, acid reflux issues and upset stomach.
Sources:
http://www.academicjournals.org/journal/JMPR/article-abstract/ABBAEEB14994
http://onlinelibrary.wiley.com/doi/10.1002/ptr.1031/abstract
http://journals.plos.org/plosone/article?id=10.1371/journal.pone.0012561
http://ssjournals.com.md-in-1.webhostbox.net/index.php/ijpr/article/view/1207