After Reading This You Will Know Why Ginger Root Tea Is A Great Alkaline Beverage To Drink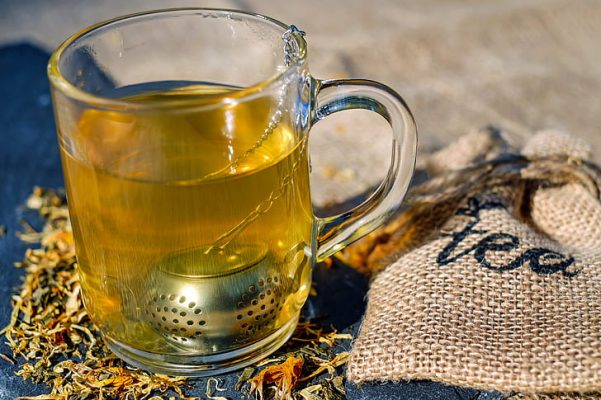 1. Sexual Activity
For years, ginger root tea has been traditionally used as an aphrodisiac or to arouse desire and enhance sexual activity. This tea helps to increase blood circulation, and in result, blood flows more easily to the mid-section of the body.
2. Cold and Cough
Ginger root tea contains antioxidant, antibacterial, expectorant and anti-inflammatory properties, which makes it an ideal drink for soothing and eliminating colds, coughs, and speeding the recovery process.
3. Treats Inflammation
Drinking ginger root tea can be excellent for inflammation linked to arthritis, joint pain, headaches, fevers, cramps and muscle aches. This tea has an active ingredients, gingerols, which is potent antioxidants and anti-inflammatory compounds, that can help to reduce the pain and discomfort in the body.
4. Menstrual Cramps
Historically, ginger root tea has been used for thousands of years to treat women who suffered from painful or irregular periods. The anti-spasmodic properties in ginger root tea help to relieve painful cramps associated with menstruation.

5. Anti-Tumor Activity
Ginger root tea contains anti-tumor and antioxidant properties. These active ingredients can help to prevent tumor formation, lowering the risk of developing various types of cancers.
Don't miss out on the health benefits of our 100% Organic Alkaline Ginger Tea.  To purchase click photo below: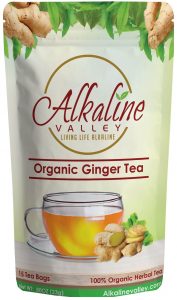 6. Stress Levels
Excess stress hormones can impact metabolic activity and wear down the body and immune system. According to sources, drinking ginger root tea can boost the health and function of the adrenal glands, which are vital for managing stress hormone levels in the body.
7. Digestive Issues
Ginger root tea is great for treating excess flatulence, bloating, upset stomach and cramping. This tea is also good for vomiting and nausea. In a report, pregnant women who suffered from morning sickness in their first trimester, was relieved after drinking ginger root tea.
8. Prevents Cancer
According to studies, gingerols, those same ingredients which give ginger root tea its anti-inflammatory abilities, have also been shown to prevent carcinogenic activity in the colon that can lead to colorectal cancer.
9. Nausea
Studies have concluded that ginger root tea helps in treating nausea connected with pregnancy, motion sickness and chemotherapy.
10. Flu
Historically, ginger root tea has been prescribed to fight illness and infection for people of all ages. Ginger root tea acts as a sheild to the high levels of prostaglandins that induce fever, headaches, and cramps. This process aids the immune system in fighting the flu and other illnesses.
Source:
http://www.sciencedirect.com/science/article/pii/S0278691502000376
https://bmccomplementalternmed.biomedcentral.com/articles/10.1186/1472-6882-8-46
http://www.sciencedirect.com/science/article/pii/S0952327897905871
https://books.google.com/books?id=zfxLvxEvAh0C
http://www.sciencedirect.com/science/article/pii/S0952327802904412