10 Incredible Benefits Of Fennel Tea That Explain Why You Should Drink It Regularly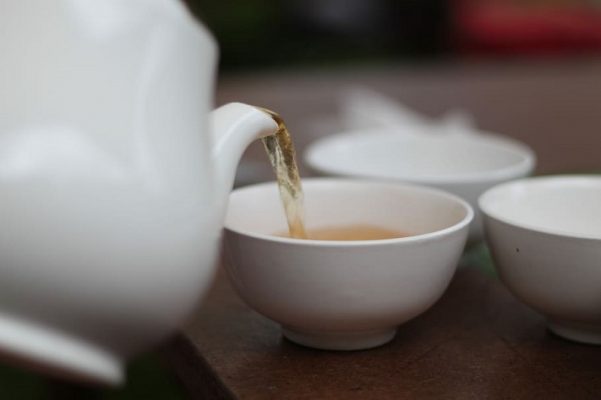 1. Fights cancer: Fennel seed extract halts the growth of tumors due to its high concentrations of flavonoids, alkaloids, and phenols. According to studies, fennel seed extract has been found to be preventative of several liver cancer strains and breast cancer.
2. Fights heart disease: Fennel tea is a great source of fiber, which helps to maintain healthy levels of cholesterol in the blood stream. This aids in the elimination of damaging LDL cholesterol, which is a one of the leading causes of heart disease, strokes and artherosclerosis.
3. Treats anemia: Fennel tea contains a healthy amount of iron, which is the most important mineral in the treatment of anemia.
4. Aids in constipation treatment: Fennel tea can act as a laxative to treat abdominal pain, diarrhea, Irritable Bowel Syndrome (IBS), and other intestinal issues.
5. Lowers blood pressure: Fennel tea is a great source of potassium, which is an essential mineral for lowering high blood pressure. Potassium relaxes the tension of blood vessels, reducing the blood pressure in result.
Don't miss out on the health benefits of our 100% Organic Alkaline Fennel Seed Tea.  To purchase click photo below: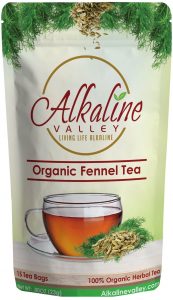 6. Boosts brain function: Potassium in fennel is an electrolyte that promotes increased electrical conduction throughout the body. This helps with connecting information to and from the brain, improving function and cognitive abilities.
7. Boost immune system: Fennel has a very high amount of important nutrients and antioxidants that boost the immune system and protects the body against harmful effects of free radicals.
8. Helps menstrual disorders: Fennel tea eases and regulates menstruation by balancing hormonal action in the body. Fennel is also a pain reliever and relaxing agent for women with PMS and menopausal women.
9. Treats diarrhea: Fennel tea is helpful in treating diarrhea because it aids in digestion and the proper functioning of the digestive system.
10. Boost eye health: Due to the antioxidants, detoxifiers and stimulants, fennel tea can help protect the eyes from inflammation, along with helping to lessen disorders related to premature aging and macular degeneration.
Sources:
http://www.iupui.edu/~womrel/Rel%26HealingReadings/Lad_AyurvedicMedicine.pdf
http://online.liebertpub.com/doi/abs/10.1089/act.2008.14602
http://www.sciencedirect.com/science/article/pii/S0023643802002268
https://synapse.koreamed.org/search.php?where=aview&id=10.7762/cnr.2015.4.3.168&code=0214CNR&vmode=FULL
http://pubs.acs.org/doi/abs/10.1021/tx900236g
https://books.google.com/books?id=IyxVCwAAQBAJ