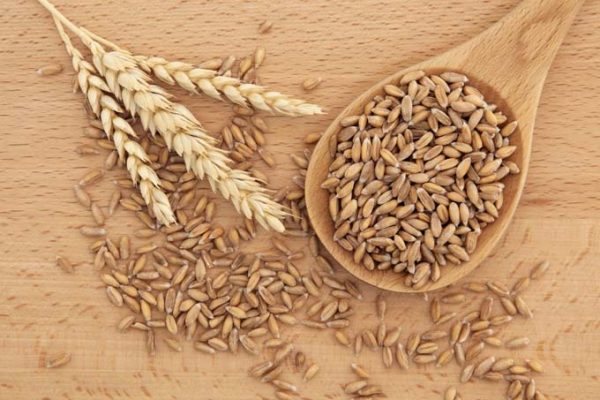 Spelt is an ancient grain that is an older distant cousin of modern day wheat. Many people in the world are switching over from consuming wheat to eating spelt because the grain possesses more health benefits and it's easier for the body to digest. Spelt is high in niacin, manganese, thiamin, copper, iron, zinc, and magnesium. The alkaline grain is also highly water soluble (unlike wheat), making these nutrients easy to absorb by the body.
According to an article published in the journal "Acta Scientiarum Polonorum," spelt flour has about 5.5 mg of niacin per 100g serving. That number is about 5 percent more niacin than wheat flour. Researchers recommend that people consume 20 mg of niacin a daily. A 100g serving of spelt flour satisfies 27.5 percent of the daily value of niacin. Niacin boosts the body's energy metabolism. The nutrient also help to make sex and stress hormones in the adrenal glands. People also need niacin to reduce cholesterol levels and to improve blood circulation.
In a study published in the "Journal of Agricultural and Food Chemistry," scientists examined spelt grains compared to wheat grains, and they concluded that the spelt offered higher amounts of essential minerals, such as iron, zinc, copper, magnesium and phosphorus. The human body needs these minerals to perform its daily functions and to support healthy immune, cardiovascular and nervous system. These minerals are naturally high in the spelt grain.
Spelt flour is highly water soluble, this makes it easier to digest for people who are wheat intolerant. The flour made from spelt also has more soluble fiber than both durum and standard wheat flours, according to an article published in "Food Chemistry." Soluble fiber is great for regulating blood sugar levels and lowering cholesterol blood levels, thus, helping in the fight against diabetes.