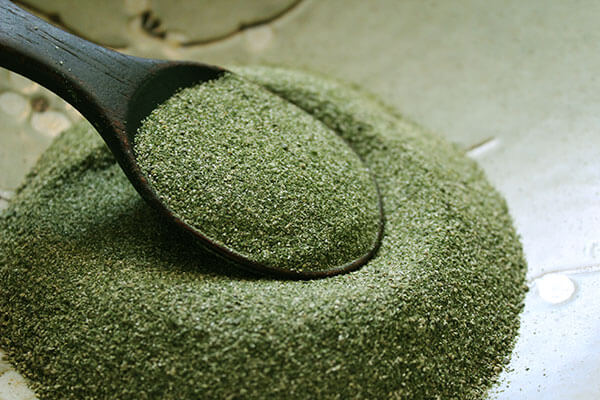 Thyroid issues can range from small, goiter (enlarged gland) to life-threatening cancer. The most common thyroid disorders are centered around the abnormal production of thyroid hormones. The lack in hormone production leads to a condition called hypothyroidism. Too much thyroid hormone creates a condition known as hyperthyroidism. These condition develop from eating too many toxic or acidic foods that leads to inflammation issues or an autoimmune diseases in the body, which ultimately destroys the thyroid.
The symptoms of thyroid problems can be very uncomfortable, but these conditions can be healed with the proper treatment.
Natural iodine is an essential mineral for the proper thyroid function. For the metabolism, the thyroid and energy levels, the right balance of iodine is key. One food item that can help in increasing iodine levels in the body is kelp powder. Kelp powder is high in this essential nutrient.
Kelp powder has several minerals and trace minerals, including copper, magnesium, calcium and iodine. The alkaline seaweed is also high in fiber, fat-free and low in calories. Kelp powder is broadcast as a food to help with thyroid function because of its high iodine content. One gram serving of kelp powder contains 1,820 micrograms of iodine, according to the book, Comprehensive Handbook of Iodine: Nutritional, Biochemical, Pathological and Therapeutic Aspects, edited by Victor R. Preedy.
Inorganic iodine like what's in some cold and sinus medicines, synthetic supplements, the heart medicine amiodarone, or certain contrast dyes given before some X-rays aren't a good source of the mineral and will have an adverse effect on thyroid health.
Consuming a good balance of natural iodine deriving from living matter is key. A recommended daily intake of natural iodine is 150 micrograms (mcg) per day for most adults.