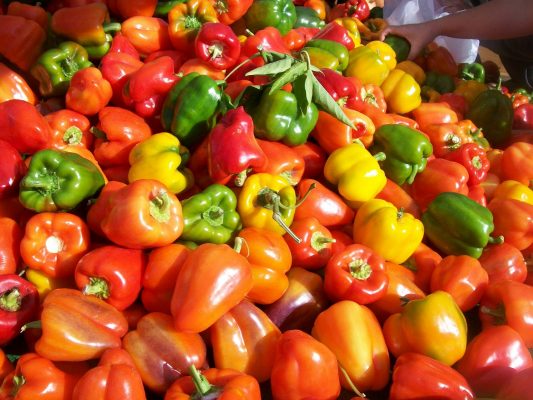 Bell peppers are a tasty food that bring nice colors and flavor to dishes. Aside from those attributes, the alkaline fruit, that's mostly considered a vegetable, has several valuable nutrients for the body. Bell peppers, which have a essential fiber and antioxidants, come in green, as well as ripened versions that turn red, yellow, and orange. Overall, these peppers are great for people's health.
Green and red bell peppers have essential antioxidants that support a healthy eyesight. A cup of chopped peppers of any color provides more than 100 percent of the daily value of the antioxidants, which supports tissue health and the immune system. Bell peppers also provide nutrients for the functioning of red blood cells, which is especially important for pregnant women because it helps to prevent certain types of birth defects in unborn children.
The essential antioxidants in red bell peppers fight free radicals (toxins), helping to prevent certain types of cancer, especially prostate cancer in men. Yellow and orange bell peppers have special antioxidants, which can help protect the heart from cardiovascular disease.
All colors of bell pepper are high sources of potassium. Potassium helps to keep the fluids and minerals balanced in the body, enhancing muscle function and regulating blood pressure.