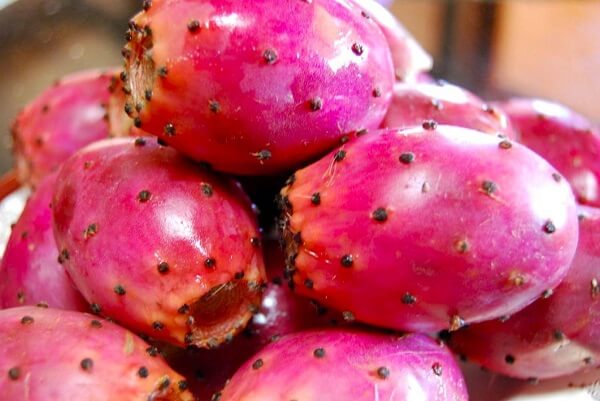 Prickly pear is a fruit that currently isn't popular in the United States. That fact may change soon, because the fruit has some amazing benefits that could help many people. Prickly pear has recently been labeled as a fruit that can help diabetics lower their sugar levels.
Prickly pears are an alkaline fruit that grow wild in the North American deserts, Mexico and in Canada. Although not popular in the US, the fruit has been a staple for Mexican and Central Americans for thousands of years.
The distinctive thing about the prickly pear plant is that it has two different edible parts: the pear, which is used as fruit and the pad of the cactus (nopal), which is treated as vegetable.
Historically, the prickly pear has been prescribed in Mexico to treat diabetes for over 1,000 years, and it is one of the most used natural health products in Central America.
The use of prickly pear as a natural helper in the treatment of diabetes is well known among many native cultures. Research has shown that the alkaline fruit is very beneficial for diabetics and is known to having hypoglycemic effects.
In a scientific study reported by the National Institute of Health, the scientist showed that the prickly pear lowered blood sugar in people with type 2 diabetes. A single dose of the pear decreased the participants' sugar levels by 17 to 46%. The research emphasized that the consumption of the nopal had a metabolic effect on people with diabetes and reduces serum glucose levels. The prickly pair also promotes a faster and better glucose entry into the cell, in both diabetics and non-diabetics, helping to keep sugar levels down.
In another study conducted in France, 49 women volunteers, who had a normal body mass index, were assigned to take either two grams of prickly pear extract or a placebo for four weeks. At the end of the 28 days, the women taking the prickly pear extract showed significant weight loss compared to women who took the placebo.
For many people obesity plays a major role in the development of type 2 diabetes. Prickly pear promotes glucose control and weight loss. This is evidence that prickly pears can improve insulin levels.